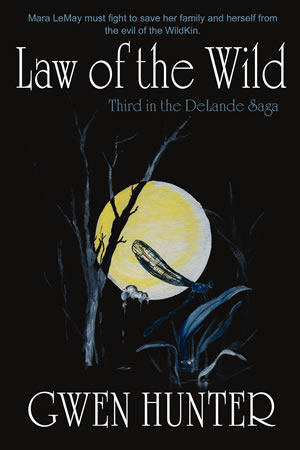 LAW OF THE WILD — Third in the DeLande Saga
Author: Gwen Hunter
Publisher: Bella Rosa Books
ISBN 1-933523-11-5
LCCN 2005909761
First U.S.A. Edition
6" x 9" Trade Paperback; 272pps
Retail: $16.95
The long-awaited first USA edition with expanded scenes.
---
Law Of The Wild is a lush, atmospheric, and compelling suspense novel that will utterly captivate its readers.
---
Deep in the heart of the Louisiana Badlands dwell the LeMays, a breed apart from the rest of the 21st century world. A family of ancient bloodlines and renegade minds. But someone is out there in the night, full of hatred, seeking to destroy their clan.
Mara LeMay has her own battles to fight; she is young, beautiful, independent, and born into a race of virtual slaves. For as long as she can remember the LeMay women have been bred as concubines for the DeLande Family, and now the Eldest, the most powerful of them all, is coming to claim her as his own. Despite her attempts to resist her destiny Mara dangerously attracted to Miles DeLande. But the prospect of loving a man from a family shaped by generations of deliberate inbreeding and debauchery fills her with terror.
And there is another man, out there in the bayou, who wants Mara—and vengeance. She knows he will not rest until she is dead. And she knows she must fight to save her family and herself from the evil of the WildKin.