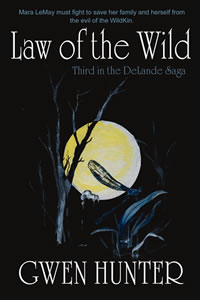 LAW OF THE WILD — Third in the DeLande Saga
Author: Gwen Hunter
Publisher: Bella Rosa Books
ISBN 1-933523-11-5
LCCN 2005909761
First U.S.A. Edition
6" x 9" Trade Paperback; 272pps
Retail: $16.95
Reviews
synopsis
Read an Excerpt
Buy the book
The DeLande Saga

LAW OF THE WILD, by Gwen Hunter
For generations, the DeLande family has controlled a good portion of Louisiana bayou country with money and power. What no one is quite willing to admit (out loud, anyway) is the inner power they possess, and the ways the DeLandes use their abilities.
Another bayou family, the LeMays, have been connected to the DeLandes by blood and love, for as long anyone can remember. Young Mara LeMay is lovely and independent, and wants to live her own life, \instead of being a DeLande mistress as her mother was.
Unfortunately, her budding womanhood had attracted the attention of both the DeLande Eldest, who wants her for himself, and another man, sworn to take his revenge for the injury she did him. Mara must protect her family and herself armed only with her knowledge of the bayou and her father's gun. But will it be enough?
LAW OF THE WILD is the latest edition to the DeLande saga from … author Gwen Hunter. Her native Louisiana provides a steamy and sensuous backdrop to this tale of love and vengeance, and her understanding of the ways of the bayou lets the reader feel the stifling heat and smell the humid air of Louisiana in the summer, as if he were really there poling a raft through the water.
Hunter has an excellent way of making each character memorable, hers and villains alike. Her writing is refreshingly realistic, allowing the reader to loose himself in the unfolding tale.
LAW OF THE WILD, although part of the DeLande saga, can be read alone and enjoyed. I would suggest, however, that you find and read the other books in the series as well. You'll thank me!
--Misty Massey; THE HERALD