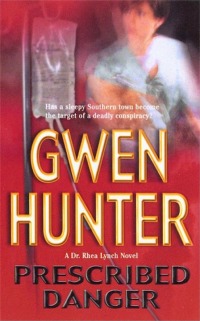 A Rhea Lynch, MD. Novel
Second in the Series
April 2002
Reviews

Author's Notes on the
Rhea Lynch, M.D. Series
Cover Art ©2002 by Harlequin Enterprises LTD
MIRA BOOKS
ISBN 1-55166-916-1


Working in the the E.R. of a small South Carolina hospital, Dr. Rhea Lynch has seen it all—most of it at 2:00a.m. When an interracial couple is rushed in, beaten and bloodied by a mysterious hate group, the patients show symptoms of a fast-acting pulmonary infection Rhea has never seen before. Within hours, it proves fatal.
Soon more victims are rushed in, and an epidemic has Dawkins County in an icy grip of terror. As the puzzling illness claims more lives by the hour, Rhea begins to draw some startling conclusions about the nature of the illness.
How could something like this have happened in this peaceful community? Can it be stopped? Every second counts as Rhea desperately tries to fit the pieces together—and soon realizes that she is dealing with something bigger and more terrifying than she could ever imagine.

GWEN HUNTER