---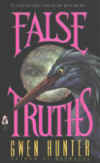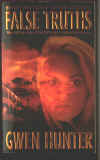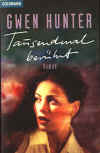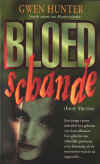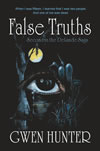 Reviews for:
FALSE TRUTHS
The Second DeLande Novel - By GWEN HUNTER
also published as
TAUSENDMAL BER▄HRT in Germany
& BLOEDSCHANDE in Holland
---
FALSE TRUTHS – Gwen Hunter
Set on the South Louisiana Bayou and in the city of New Orleans, FALSE TRUTHS is an account of a young girl coming to know her true background and family in all its perverse and manipulative glory. Having always known she was different, she comes of age and decides to hire a private detective to track down her mother (alive or dead). In the process she stirs up things about her past which shock and almost destroy her, but which also teach her about the real meaning of "family".
Although two thirds of the plot seems to be revealed in the last few chapters leaving the reader a little dazed, this is probably because the author takes a lot of time and care setting the atmosphere and building her characters. The heroine is a likeable mix of naivetÚ and artistic flair; the private eye a no-nonsense, horse-loving loner and the heroine's employer, a temperamental, womanizing artist. The novel is full of eccentric people who all spend a great deal of their time drinking strong black chicory coffee "a typical French Louisiana passion". The author's knowledge of and love for the bayou saturate the prose and the novel is full of highly evocative descriptions of the scenery of the area and the lifestyles of its Cajun inhabitants.
The book is well worth reading for such descriptions alone (a passage describing the egrets coming back to roost at dusk sticks in my mind especially), and although the plot is at times rather shaky and unconvincingly overdramatic the whole is well written and enjoyable. I didn't need any of the character's favorite stimulant to keep me awake and engrossed. (A.J.C)
---
FALSE TRUTHS – Gwen Hunter
They Didn't Bargain For Bonnie From The Bayou
Bonnie Sarvaunt is a young woman with a mission—To find out who she really is, where she comes from and why her past has been hidden from her all her life.
Living out on the bayou, she is mysteriously visited by a man who gives her the key to her past.
Her quest takes her to New Orleans where she encounters violence, more secrets and dirty dealings as well as the chance to develop her painting skills while working for a world-famous artist.
A book full of suspense, FALSE TRUTHS twists and turns its way to a climax far more intricate and tangled than the relaxed first few pages of the novel would suggest.
Gwen Hunter builds her characters and describes their lives with effective, detailed prose.
Her words reflect the talent of her central character, and her narrative paints vivid pictures of Bonnie's life and experiences.
The switches of time and place are also handled with ease.
A fast-paced thriller the novel features the evil DeLande family who were also a part of Ms. Hunter's first book BETRAYAL (titled STOLEN CHILDREN in the UK).
The DeLande's money and power put them beyond the law . . . but they had not bargained for Bonnie.
Josie Whiteley — The Huddersfield Daily Examiner
---
Ingram


Haunted by the death of a mother she never knew, Cajun-raised artist Bonnibelle Sarvaunt begins an apprenticeship with an eccentric master in New Orleans and realizes that she is being stalked.
---
Bella Rosa Books - ISBN 0-9747685-1-0
---
Gwen Hunter's books have been sold in the USA, Italy, France, Germany, Holland, Australia, New Zealand, the Philippines, Finland, and the UK, where her best seller STOLEN CHILDREN (the UK title for the novel BETRAYAL) won the W.H. Smith award for best first novel. Gwen's latest book, GRAVE CONCERNS, is a lead title from MIRA BOOKS. Look for it in book stores January, 2004.
---