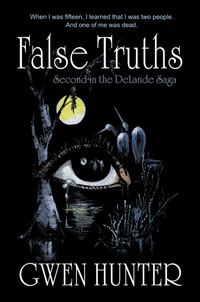 COVER ART ©1995 POCKET STAR BOOKS
ISBN 0-671-89154-5
FOREIGN LANGUAGE EDITIONS OF
FALSE TRUTHS
FALSE TRUTHS
UK EDITION - HARDCOVER - SOFTCOVER
TAUSENDMAL BERÜHRT
GERMAN - FIRST EDITION - SECOND EDITION
BLOEDSCHANDE
DUTCH EDITION
ALL HER LIFE, SHE LONGED TO UNVEIL THE MYSTERY OF HER BIRTH...
At the age of fifteen, Bonnibelle Sarvaunt received a black metal box containing the mementos of a mother she had never known, and a death certificate that would come to haunt her. Bonnie had always known she didn't belong in the backwater swamps of her youth. Fair-haired and pale-complexioned in a Cajun domain, raised by her withdrawn aunt and uncle, she was endowed with a generous allowance--and an extraordinary talent for painting. With her oils, canvas and expensive French brushes, she brought the dark mists of the swamp and the magic of her beloved bayou to life. The world Bonnie painted was a hidden place, full of secrets, shadows, unexpected beauty--and sudden death.
At twenty-one, Bonnie made her way to New Orleans, filled with an artist's zeal and an obsession to lift the shroud surrounding her past. Yet even in that beguiling city, she felt a strange sense of déjà vu. A resourceful plan won her an intriguing and eccentric mentor, a renowned European painter who taught her the fine art of passion. But someone was watching her, following her--someone willing to kill. Swiftly as a flock of egrets rising from the mire, Bonnie is drawn into a disturbing realm of wealth, sensuality, and cruelty. Now, in a world more treacherous than Bayou Negre on a moonless night, Bonnie must fight to become the survivor her mysterious mother meant her to be...a woman who will defy fate itself....
GWEN HUNTER