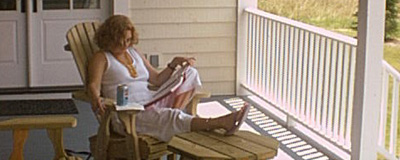 When I was a little girl, I wanted to be a nurse. In my eight-year-old reasoning, the goal of an R.N. after my name was so that I could help people, give them succor, because even then I realized that everyone had a story to tell, a cross to bear, some pain that needed working out in their life . . . Always a loner, I would sit and watch people as they passed through my life, making up stories about them. In every story, I was the hero, saving them from some awful fate. And then, at about age 11, I discovered books.
In real life, I am not particularly brave or resourceful, but when I entered the mind of a paper hero, I became that person, and their strengths became mine, their weaknesses, mine to overcome. I took on their fears, their powers, their triumphs. And I was set free! That freedom was compounded when my tenth grade writing teacher read my first attempts at writing poetry and short stories, and told me that I had talent! Talk about stunned and tearful and amazed!
I come from a very talented family—My mother is an artist and decorator, my father is an engineer with a near photographic memory, my brothers are talented—each with an IQ much higher than mine, one playing music by ear, both being quite athletic, and problem solvers by nature. Me? I was just ordinary. Until that day when my teacher told me about myself! That very day I decided to become a writer. Because books were my first love, I knew that was what I wanted to write.
Being a very organized person (thanks to dad's training) I immediately subscribed to Writer's Digest and began to learn about the life and income of a writer. I discovered that starting out writing books is difficult unless one has another income to pay the bills. So, after high school, I took a course in Allied Health Technology at the local tech school, earned my degree, got a job, and took up writing with a vengeance and a goal—get published ASAP!
Though I wrote books and took a few writing courses at the local University, ASAP didn't come until I found a co-writer. One night at 2 a.m. in the emergency room, I met a police officer who wanted to write, and magic was born for me as he turned out to be a natural born story-teller. The first words we put on paper, writing under the pen name Gary Hunter, sold to Warner Books for a two book deal, in the men's action adventure genre. Those two books are long out of print, but they taught me the single key I had lost in all my study about writing—the character has to have weaknesses and fears and problems to overcome, and then with his/her strengths, has to overcome them. A simple formula. But one that works.
Now I write solo, about people who are flawed, weak, and have problems to overcome. And then set out to solve whatever problem they are face with. I hope you like my weak/strong characters. I hope you like heroes. Because that's what I try to find in the heart of each character—that thin flame of heroism that burns in each of us.
Married to my soul-mate, I now live in a three story house overlooking a narrow wood and tinkling creek. As I write, I can look out over oak, poplar, sweet-gum, hickory, and dog-wood, see red-breasted, red-tailed, ring-tailed, or red-shouldered hawk in mating and hunting flight, watch the rabbits nibble the grass and birds feed off the deck. I find myself being pulled from the writing far too often as the world outside seeks my attention through the huge windows. And then, of course, there are the dogs. . . . Pomeranians Delta Belle and Dinkums DeLande demand just a bit of attention! If my life sounds placid compared to that of my characters, well, perhaps that's a good thing!
Thanks for listening! I hope you enjoy my books!
Gwen Hunter
Visit GWEN'S FACEBOOK