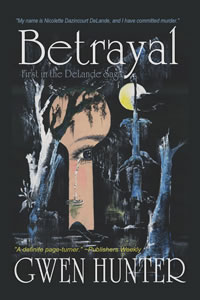 COVER ART © 1994 POCKET STAR BOOKS
ISBN 0-671-89153-7
FOREIGN LANGUAGE EDITIONS OF BETRAYAL
STOLEN CHILDREN
UK EDITION : HARDCOVER - SOFTCOVER
LA MALÉDICTION DES BAYOUS
FRENCH EDITION
DIE BETROGENE FRAU
GERMAN : FIRST EDITION - SECOND EDITION
THIRD EDITION
BLOEDVERWANTEN
DUTCH : FIRST EDITION - SECOND EDITION

GWEN HUNTER
HOME
IN LOUISIANA THE DeLANDES CONTROLLED THE POLITICS, THE LAW, THE MONEY...AND, MOST OF ALL, THEIR WOMEN...

My name is Nicolette Dazincourt DeLande, and I have committed murder...

So begins this spellbinding, passionate novel, the story of a young girl's marriage into a family so monstrous that only an extraordinary woman could escape from it alive....

Montgomery Beauregard DeLande was a wealthy, charming Creole from one of Louisiana's finest and oldest families when he won Nicole as his bride. Three children later, she was pampered, protected, and adored...except for the sensual cruelties inflicted in the dark by her strangely possessive husband. As graceful and elegant as a panther, he could turn vicious in a soul-freezing second. But Nicole never dreamed of the evil that lived at the heart of the DeLande clan, that glittered in the eyes of his mother, the Grande Dame, an evil so foul not even her sweet bébés were safe. From New Orleans to Baton Rouge and deep into the Cajun bayous, Nicole was beginning a voyage into the fiercest part of her womanhood, to discover the true cost of love--and the only way to survive.

Set in an exotic, violent world where storms crash suddenly in from the Gulf, where crushing vines of wisteria are drenched with pungent lavender, where gators growl by night in brackish waters full of secrets, BETRAYAL is a suspense-filled tour de force about a woman who defies a threat honored through the generations....