---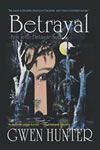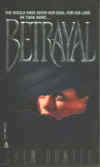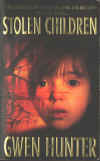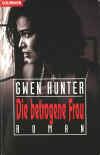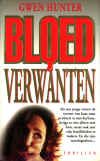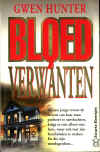 BETRAYAL
also published as:
STOLEN CHILDREN in the UK, LA MALÉDICTION DES BAYOU in FRANCE,
DIE BETROGENE FRAU in GERMANY, BLOEDVERWANTEN in HOLLAND.
a DeLande novel by Gwen Hunter
---
PROLOGUE
§
My name is Nicolette Dazincourt DeLande, and I have committed murder.
How do you synopsize a life, I wonder, cut it back and down, hacking into it like an untamed wisteria, rampant with lavender blooms, tendrils all coiled around and choking. How do you trim and clip the lush foliage of a life, making it docile and compliant, conformed to a foreign shape and structure. What kind of life is that... colorless and staid, to fit a mold of another's making. Yet...
Do you have any idea what a southern girl is taught to do? Not a big city girl, but a girl from Cajun country, a girl from the swamps, south and west of New Orleans, just off the Atchafalaya River. My daddy was a veterinarian, and not a rich one either. So by the time I was twelve I was equally proficient with Daddy's shotgun and Mama's old Zig Zag Singer. I could embroider, run a trot-line - a catfish line - gig for frogs, crochet an afghan, spin-cast for bass, and handle the vet clinic in a pinch. I could splint a dog's broken leg, weigh him and dose him with morphine to hold him till Daddy got back, make Xrays, birth puppies, kittens, or pigs, perform the Heimlich maneuver or CPR on a choking or electrocuted pet, put a damaged one to sleep, calm the owners, collect the fee, and send them away satisfied. I could play the flute, which I hated, draw, write bad poetry, speak passable French, sing in the church choir, and cuss fluently, albeit under my breath and never out loud. I could do all that. And it was a damn good thing.
I met Montgomery Beauregard DeLande when I was still a gawky teenager, climbing trees and playing Tarzan and Jane and army. He was tall, and redheaded, with blue eyes and a lanky frame that captivated all the girls in Moisson. He had a knife scar over his right eye and another that marked his collarbone. It peeked out, along with a tuft of curly red chest hair, whenever he was playing soft ball, or working with Henri Thibodeaux bent over the hood of a restored antique Ford. And he had a smile that would light up a dark room better than the finest crystal chandelier.
Montgomery was an older man. Twenty two if he was a day. He was one of the DeLande boys from Vacherie, a town halfway to New Orleans. And God knows I would have given my soul to have him just look at me once. I almost did. I may have.
---
Chapter One
§
Life never was easy in south Louisiana, except for those wealthy enough to make the choices and purchases that changed the lifestyle. My daddy wasn't one of the lucky ones born to wealth and prominent social position. And the fortune he'd hoped to make with the oil boom of the early seventies died along with his investments and the family reputation, sinking into the mire of the Louisiana landscape. Oh, we never did without. We always had plenty to eat, even if it was pulled or netted from the freshwater Grand Lake Swamp or the river basin. And we always had enough to wear, even though it was only copied from a fashion magazine and sewed together on Mama's worn-out Singer.
We lived in a little town called Moisson, near Loreauville, Louisiana, inside the Atchafalaya River Basin. Baton Rouge was northeast, a good two-hour drive for those with the car, the gas, and the inklin' to travel. New Orleans was due east, with its multiple societies and closed social order. But no one I knew belonged to either the courtly, aristocratic society or the swarms of the debauched, roaming the streets of the French Quarter seeking thrills by night.
When I was twelve Mama came into her inheritance, and thereafter we spent each hot July in New Orleans, soaking up the culture Daddy had in mind for me to marry into. Mama was a Ferronaire, of the New Orleans Ferronaires, and had married beneath herself both financially and socially when a Dazincourt wooed and won her at one of the "white gown balls" for the socially prominent during Carnival the year she made her debut. Of course, the Ferronaires always married beneath themselves, everyone else being inferior.
Nonetheless, she and Daddy wanted something better for me than Moisson offered, so each July Mama, my best friend, Sonja, and I ate in fine restaurants, experienced opera in the Theatre for the Performing Arts, and plays in the La Petit Theater du Vieux Carre' and the Theater Marigny, heard the Louisiana Philharmonic Orchestra in the Saenger Theatre, and jazz in Tipitina's, the Maple Leaf, Muddy Waters, the Absinthe Bar, and Tyler's.
We toured horse-breeding farms for New Orleans' Thoroughbred Racing, and the Fairground Race Track even though it was off season, trading on the Ferronaire name and Ferronaire connections. And we visited fashion houses, where Mama looked, studied, and mentally stored designs for the coming year. She was talented with cloth and needle like no one else. If she'd been a stronger woman, she'd have bucked Daddy and opened a shop. But maybe she liked the solitude of Moisson and her dependence on him.
Moisson had society of a sort. Local dances and church picnics and hay rides in the cooler weather of what passed for fall. But the concept of high society was beyond us all. Designer gowns and the private Carnival balls during Mardi Gras simply were not a part of our growing up. Without school, I would never have had the opportunity to meet the types of people who fit into polite society. And I certainly would not have met the types of people who didn't fit into society at all.
I attended the Our Lady of Grace Catholic School in Plaisant Parish from the time I turned nine and Daddy decided I might someday become a beauty. It was his hope that I would attract the kind of man who could lift the family back up into its proper social and economic stratum. In other words, it was his intention to sell me on the marriage market to the highest bidder. Ferronaire connections would admit me to the debutante balls and the Carnival "white gown balls" of Mardi Gras. The rest would be up to me and the training I received at Our Lady.
It was because of Our Lady of Grace that I met both Montgomery and Sonja. It is ironic that the sisters gave me both my damnation and my savior. I was ten when Sonja LeBleu first came to Plaisant Parish. She was beautiful; a dark-eyed innocent wanton with long, tapering fingers and beguiling eyelashes and a natural grace that put all the girls at Our Lady to shame when it came time to learn the dance steps popular in Creole ball-rooms.
I was surprised that Daddy let me learn to dance. A stern eyed closet Pentecostal in Catholic camouflage, he preached the danger of dancing, dating, sex, and sin most evenings at family Bible study. But that was before I understood about the marriage market and Daddy's designs on my future.
Sonja seemed born to dance. Her feet would learn the steps and her body would move into the proper forms as though she had already known what to do and had simply waited for permission to start. I wasn't half so lucky. Too tall for my years, and clumsy by nature, I had as much trouble learning to dance as I did learning to speak the Parisian French we studied three times a week. In both classes, Sonja outshone us all. And if she hadn't been a worse outcast than I, we probably would never have become friends.
Sonja was the lowest of the low in Louisiana society. One step below mixed-blood Indians or white Cajuns, French persons with black blood in their lineage were considered outcasts. Practically untouchable. Called "high yellow", and "coon-ass", they had no chance to advance in proper society - unless they were beautiful and accomplished. Sonja was going to become both, move to New York, and pass for cultured but impoverished gentry. Passe' blanc. Pass for white. Yankees, unfamiliar with the class strata so long established in the South, would not recognize nor care about Sonja's heritage, and she could make a good marriage into good green Yankee money. Or so the reasoning went.
Montgomery came to town the year I turned fourteen. I was too tall, too thin, and still suffering - as only the young can suffer - the continuing disgrace of the family name. My Uncle John Dazincourt had been disbarred for graft (the monies involved being over and beyond the expected norm for a Louisiana politician) in a well publicized courtroom scene only the year before. As he was the second Dazincourt uncle to be publicly discredited in recent years, the shame would have been unbearable but for Sonja. She just smiled her secretive smile, patted the back of my hand, and silently stood by me, waiting out the scandal. Even then, Sonja knew when to speak up and when to hold her peace.
Early that spring, as the scandal was at its peak, Sonja and I were eating lunch together on the school grounds of Our Lady, our plaid uniform skirts tucked beneath us, napkins spread across our knees, sitting apart from the other girls in their little knots all a-whisper. Closest to the pitted road, we had just finished our sandwiches and pears, and were wiping our fingers delicately on our napkins when a motor sounded in the distance. A dirt streaked antique Ford, its engine loud but smooth, pulled down the road and braked, showering Sonja and me with a fine powder.
A red haired, blue eyed man, his teeth strangely white in his dust streaked face, braced an arm against the open window and leaned out the car. His eyes fell on Sonja, and as always with the men of Moisson, they stayed there.
"Excuse me, miss. Could you direct me to Henri Thibodeaux's place? I seem to have made a wrong turn somewhere."
The engine roar covered all the sound from the garden, but I could well imagine the giggles and whispers. The sisters had often told us never to talk to strange men, certainly not strange, dusty, gorgeous men leaning out of expensive classic cars, looking at us like he was. Like a fox at bait. But they had also told us to use our manners. And ignoring the stranger's question and his obvious adversity was not the way to handle this situation.
I was tongue-tied as usual. But Sonja, her lashes downcast against the dust, smiled and directed the man to the front door and Sister Ruth, who stood there watching, her eyes like dark thunder clouds. The man tipped his hat - a curiously old fashioned gesture - put the auto into reverse, and backed up the drive. Distinctly uncomfortable and red of face, Sonja and I retreated to the coolness of the classroom and the giggles of our classmates.
Later that afternoon, Sister Ruth came into the dancing classroom and interrupted. It seemed Sonja had responded in the correct manner when she sent the charming gentleman to the front door instead of answering his query herself. Sister Ruth, her black eyes sparkling, praised Sonja, and by proximity, me. It wasn't exactly the sort of tongue lashing Annabella Corbello had envisioned for us. It seemed the red haired man had charmed even dour Sister Ruth - no small feat. But that was Montgomery. He could charm the bark off a live oak.
From the first moment I saw him, he enveloped my life, taking over the secret, intimate places where dreams nest in the heart of every young girl. Romance and passion bloom in these dark, moist havens, fantasies of rescue and stolen kisses, declarations of love and fidelity ever after, fantasies nourished by writers like Devereax and Lindsey and countless others who fuel the romantic expectations of this generation of women. These fancies would overtake me at the strangest times. I'd be working in the back of Daddy's veterinary clinic, washing out the pens of the few overnighters or post-surgical patients, and in would stride my imaginary Montgomery. Taking the hose pipe (that's southern for garden hose) out of my hand, he'd sweep me off my feet and carry me out of there, just like Richard Gere in An Officer and a Gentleman. Or so a typical daydream would go.
Of course, in real life the puppy poop and kitty vomit would have made walking precarious, breathing difficult, and romance impossible. But reality has little to do with the pirated dreams of a young girl. Montgomery became my life. I even took over the crabbing and cat-fishing from my brothers just so I could motor Daddy's flat-bottomed boat or the pirogue through the lakes and swamps and tributaries of the Atchafalaya River Basin towards Henri Thibodeaux's place in the faint hope that I'd get a glimpse of him working in the yard on the vintage autos the two men loved. I never got lucky.
Daddy, however, was pleased to see that I was making use of all his training, that I hadn't forgotten the swamp lore I learned at his knee. At least I made one man happy.
I had better luck in town, spotting Montgomery at local dances, escorting one of the parish's young beauties, dancing and sipping punch. I saw him at church for mass, and twice at confession. I went regularly on the same day at the same time thereafter, hoping to see him again. I saw him at the store buying bottles of liquor for one of the parties he and Henri Thibodeaux threw for the parish's young, wild, and rebellious set.
And I asked around. I learned all about this red-haired man with such uncommonly refined manners. He charmed everyone he met, from the parish priest, Father Joseph, to the man who swept out Therriot's grocery store. And I don't think he ever noticed me. Not once.
But when I turned sixteen, things changed. I changed. One day I passed the tall gilt mirror in the entryway and stopped, frozen. Because the reflection wasn't me. It was Daddy's vision of me. And I was almost afraid of going back and getting a better look. But I did. And oh, God, I was fine.
Tall, yes, but in the way Glamour magazine called willowy, with long legs and a slim frame, and graceful as a ballerina. My face was delicately boned, with golden skin and gray eyes turned up at the corners - sloe eyes, they called them - and ash brown hair that was a riot of curls from the moist heat of August. I knew in that moment that my dreams could be reality. I could have Montgomery DeLande. I could. And I would.
Ten months later I graduated from Our Lady of Grace in a white-glove-and-lace-dress-ceremony. Montgomery was in the audience. I knew, because Henri Thibodeaux's sister Anne was graduating, too, and it was common knowledge that she expected a proposal from Montgomery any day now.
But I knew different. The Montgomery of my dreams would never settle for some hoyden who would jump between the sheets with anyone who caught her fancy. Montgomery DeLande would only settle for the best. The finest. The most pure.
Thanks to my daydreams and the fact that no local boy had ever measured up to the perfection I ascribed to Montgomery, I was all those things. Pure and unsullied and ripe for the man with the patience and the skill to win me.
That night began our courtship. That night set me on the road to hell.
Montgomery and I were engaged on New Year's Day the year I turned eighteen. If a new cedar shake roof on the 150 year old tidewater house I'd grown up in seemed a strange way to seal an engagement, no one mentioned it to me. And Daddy was ecstatic. His new son-in-law-to-be was all he'd ever envisioned. A man's man who could fish and hunt and restore a classic car as well as any man in the parish. And he had money. Lots of money. Money he was investing nearby in Iberia Parish in the new Grand Lake Resort. Money he wanted to invest in Moisson. Money he settled on Daddy and Mama in a financial arrangement that was never discussed with me.
I married Montgomery when I was twenty and had my first baby that same year, my second the next year, and my third before I was twenty five. But long before my wedding day we were lovers.
Sex wasn't at all what I had thought it would be. Oh, at first it was a slow-building passion and the thrill of discovery. But later it became a frenzy and a fury, like a late summer storm from the gulf, drenching and violent. And after it was over, a desultory heat and a feeling of incompleteness.
Passion and desire were a part of my nature, built into my genetic code like the sultry heat of a moist night. There's something about southeast Louisiana and what it does to people. The awful wet heat and the rain and the smell of rich earth bring all the basic hidden needs out, close to the surface, so that passion and desire, obsession and rage, are intermingled and primed to a fever pitch. Always.
My honeymoon was a romantic week in the States and ten whirlwind days in Paris, France. We flew back to New Orleans on the Concorde - me drinking champagne till I was too tipsy to walk straight. As though he expected me to mutate into something strange and alien under the effects of the alcohol, Montgomery watched me with intense eyes. Eyes brooding and heavy with passion. Unaccustomed to the wine, I simply giggled, and Montgomery had to support me through the terminal to the waiting limo, where he poured me still more champagne.
It was a vintage limo, one that had been in the family since the sixties, and had been used in the funeral procession for President Kennedy. Silver gray with rounded windows and leather interior, it lacked the modern conveniences of today's models, but it made up for the deficiencies in sheer luxury. As though he were starved, as though we hadn't made love in our Paris suite for most of the night, as though the driver didn't know what we were doing behind the closed privacy screen, Montgomery pulled away my clothes and made love to me on the drive out of the city. Over his shoulder, I watched New Orleans slide away.
The limo drove us through the sweltering city and into the countryside, through oak-lined streets heavy with moss and signs of marsh and age, for the final honeymoon weekend near Vacherie. Miles from that small town, we stopped in front of a two-hundred-year-old mansion with a two-story wraparound veranda and what looked like a family crest emblazoned on the front door - a bird of prey with bloodied talons.
A wisteria grew up beside the front door, a beautiful plant with fragrant blooms hanging down and buzzing with bees. The vine was the only foliage not pruned and clipped and shaped into balance with the other vegetation. Instead, it had been allowed to grow wild for years, wrapping its thin, wiry arms around the massive trunk and branches of its host tree. Almost lovingly it had encircled the tall timber, slowly strangling the massive trunk and branches with ever tightening arms, till it choked the life out of the old oak. A slow graphic of life and death both sensuous and cruel, the vine ran in long, spidery ropes across the ground, up the trellis, and over the circular porch at the corner of the house, as though if left to its own, it would eventually devour the house and grounds. As though some demented gardener had set it loose to consume the place. It was vicious and savage. I have always loved wisteria, especially this wild one.
Though Montgomery had not told me our destination, I knew where we were. I had been waiting for this part of our honeymoon, and I stared out through the darkened windows at the sculptured grounds. Shrunken from its once glorious past, the DeLande Estate was now five hundred acres of pecan groves, fallow fields, and horse-breeding barns for the DeLande racing stock. One of the few showplace homes spared from the burning ravages ending the Civil War, it was still kept entirely for the personal use of the founding family.
Unhurried, Montgomery helped me back into my clothes, smoothing the wrinkles with a practiced hand, his eyes once again sharp and scowling. "Come on, Montgomery. I'll be on my best behavior. I promise your family will like me."
He stared at me with an unreadable expression, his mouth tightening, and turned away, opening the door into the cooler air of the country. "That isn't my concern," he said. "My concern is that they'll like you too much."
Puzzling over that cryptic comment, I buckled my belt and slipped on my shoes, knowing I had angered him somehow, but determined not to show I cared. I wouldn't start out my marriage being intimidated. I would not become my mother. I wouldn't.
My father was a strong man in both personality and physique. Overbearing at times. Yet many women would have figured out how to live with the man and still conserve dreams and ambition of their own. They would have learned how to assert their own personalities into the home, while still keeping his love. I know. I had done it. The heroines in the books I read did it all the time. But my mother never had.
I smoothed the final wrinkles out of the dress we had picked up in Paris and smiled brightly at Montgomery. He glowered back.
While the driver unloaded the mountain of bags, Montgomery took my elbow and escorted me inside, introducing me to the house, a legendary place of long, cool hallways and twelve foot ceilings, rich with family heirlooms, old rugs, and priceless art. It was a strange house, unbalanced and unnerving in the eccentric juxtaposition of furnishings. Seeming to loosen up as we walked the cool, dark hallways, Montgomery pointed out the family treasures.
There were twenty-six tall-backed Frank Lloyd Wright chairs grouped around an ornate Louis XIV table in the dining room, and a collection of antique swords against the wall over the table. The steel had been sharpened and polished till it looked like it was used every day, yet was protected from the damage of pollution and damp by a locked glass door.
On the opposite wall was a glass fronted, modern Scandinavian armoire twenty feet long and eleven feet high holding elegant Oriental vases and two-hundred-year-old china, still used by the family. The walls were painted matte black, textured with a sponge dipped in dark green enamel. A dark green coated the moldings, and matching green drapes fell twelve feet from the ceiling to puddle on the dark wood flooring. It should have been a dark room, but one whole wall had been knocked out for French doors which let in the afternoon light.
Worn Aubusson rugs covered the floors, and every room housed collections. On the parlor walls hung a collection of Picasso drawings, the modern shapes standing in sharp contrast to the antique furniture; in the music room were two Monets and a grouping of violins, an old Steinway - out of tune - and upholstered Art Deco chairs. Styles, periods, and colors were mixed and matched in odd combinations, with the cool dark green shade of the enamel flowing through the house like deep water, pulling the whole together.
We toured only the downstairs of the main wing, but already I understood that the DeLandes were a far richer family than even the Ferronaires. I wondered what Montgomery could possibly have wanted with me when he could have married into more wealth.
Nine of the DeLande children, several of their wives, and a round dozen grandchildren were waiting for us in the gathering room at the back of the main house. The walls of the room were mounted with deer heads and a Louisiana panther, endangered for decades. Snowy egrets with wings spread, or nesting with their young, and snakeskins moldered on the walls and shelves, ancient trophies of blood sport. And everywhere birds of prey. Horned owls and a half dozen eagles, some now endangered, barn owls and falcons and hawks, all high on a shelf that circled the room above the French windows. All were dusty and neglected. Some looked generations old, and I remembered the crest-like plaque on the front door - a bird of prey with bloodied talons.
Faded, deeply upholstered chairs and sofas sat side by side with austere hard-wood benches, small tables - marked with numerous rings and small cigarette and cigar burns - at their arms. Even with the tall ceilings, this room was close and intimate, intense with DeLande personalities and DeLande judgment.
They sat on one end of the room as if our appearance in the doorway had interrupted an informal conference. Staring, they looked us over, evaluating, calculating, all gathered around the Grande Dame DeLande, the faded beauty whispered about over half a state for over half a century. I stared back unashamedly. She was still a striking woman, black-eyed and pale-skinned, with long silver hair twisted through with a strand of pearls. Pearl enamel earrings heavy with gold pulled at her lobes, and on her left hand was a plain gold band and an monstrous emerald ring. She was dressed for dinner in emerald silk. All this I absorbed slowly, feeling the silence of the collected DeLandes as they studied me.
The rumors of this dark-eyed siren were numerous, most of them shadowy and twisted, with one similar, overriding component. That the last baby, Miles Justin, was not the direct offspring of Monsieur DeLande, but had instead been sired by one of his own sons in an incestuous relationship with the Grande Dame. That the Grande Dame, called that even then, had cuckolded the old man by sleeping with one of her own sons and conceived a child. And laughed about it to his face.
Enraged, Monsieur DeLande had tried to kill her and had instead been gunned down by one of his boys. The oldest at the time was seventeen. The Grande Dame had falsely confessed to killing her husband, but had never been charged, such was the power of the DeLande name. And no one knew which of her sons had fathered the baby or killed the old man. Or so one set of rumors went.
Another set painted her the heroine, saving one of her sons from death by shooting her husband when he went berserk and attacked the gathered family with a hunting knife. According to the proponents of this scenario, DeLande had been cuckolded, but by his own brother.
I was without opinion about the rumors and without the necessary daring to ask Montgomery for the truth. I was also young, foolhardy, and careless, confident in my own sagacity, unaware that I had little. I wrenched my eyes from hers, seeing in their depths that she read my thoughts and was amused, and perhaps a little angry.
Into the silence Montgomery spoke. "Nicolette Dazincourt DeLande. My wife." The accent on the last two words was challenging, defiant, and his jaw was outthrust as he stared at the assembled grouping. I had accepted his reasons for the absence of his family at our wedding, but hearing his tone now, I wondered.
The room was silent for a long moment following Montgomery's announcement. Then one brother began clapping, slowly and distinctly, though whether it was for me or for Montgomery's statement, I never knew. Unwinding his long, lanky body from the seat of a straight-backed wooden chair, he stepped forward, his teenaged face intent and half smiling, scuffed boots striking the wood flooring.
Taking my hand, he bent his lips to my fingertips in a gesture that would have been absurd in anyone else. Cocking his head, he smiled and said gently, "Miles Justin. The peacemaker." I had a feeling there was laughter in the depths of his black eyes, laughter that made the scene of greeting farcical. I smiled back at him, relieved.
A second brother, still seated, nodded, green eyes bright. "Andreu. The Eldest." It sounded like a statement of explanation or title, as though I should derive some special meaning from the words.
Another tilted his head, "Richard." Shorter and heavier than the rest of the men, he had nondescript eyes, neither blue nor green, but hard and unreadable.
A man with a rakish smile stepped up to me, pushing Miles out of the way with a rough movement, and pulled me into his arms, kissing me on the lips, hard. His eyes were on Montgomery over my head, and he laughed low, like a growl, as he released me. "Welcome home, little sister. I'm Marcus."
Montgomery stiffened beside me, and one of the sisters hissed. I thought it was Angelica, Montgomery's favorite sister, the only redheaded female in the bunch. Whoever it was, the sound released some hidden tension in the room and everyone laughed, approaching me en masse, for hugs and kisses and a closer look.
Cold and distant, or warm to the point of impropriety, Montgomery's strange family greeted me, while the Grande Dame merely watched, her eyes cool as her smile. My new husband finally led me forward and presented me to her. I could smell the scent of perfume as she lifted her right hand. But instead of shaking my hand as I thought she intended, she merely twirled her index finger slowly as a silent command for me to turn around so she might view me from every angle like a rare vase she might buy. Her dark eyes glittering, she smiled at Montgomery, and he nodded in return. But it was more than simple acceptance, and the hairs rose slowly on the backs of my arms.
I felt fortunate when the butler announced dinner before the feeling could worsen, and we moved together toward the dining room, the Grande Dame on my left, Montgomery on my right. Miles Justin moved to pull out my chair, his smile wry and mellow, mature for his years. He couldn't have been more than fourteen.
The long stretch of table served us all comfortably, the youngest grandchildren having been carted off screaming to eat in the kitchen, as the sun set and cast shadows and prisms of light across the setting. Servants, quiet and elegant in dark jackets, moved discreetly in the dim corners of the room.
The conversation was purely southern, with a light smattering of horses, farming, the world economic picture, and a heavy dose of politics. Yet I seemed to fit in only when I was silent, though I knew a bit about horses and offered an optional course of treatment for a breeding mare with digestive problems. Only Miles Justin bothered to respond, asking for the recipe of the bran mash Daddy used to treat Mr. Guidry's delicate little Paso Fino.
After the "light dinner" - a sumptuous affair with six courses - the family retired back to the Gathering Room. Here I was silent, aware of Montgomery's increasing agitation. Members of the family came and went in singles and pairs, the Grande Dame the only one who was stable, never moving from her chair, her eyes following each movement, settling often on me and on Montgomery, who seemed to flinch each time he caught her watching him.
Twice when her eyes met mine I glared back, and this seemed to amuse her, but she acknowledged the expression each time with a slight nod. Late into the evening, long after the day's wine had faded, and long after the novelty of this complex and unpleasant family had worn off, the Grande Dame signaled to me. "Come here." I don't know how she did it. She didn't speak; she didn't motion. But I knew I was being bid forward.
I came and sank onto a cushion at her feet. There were dozens of these cushions strewn around the room, tassels loose and twisted or molting with age, all made from the same ancient and brown stained Aubusson rug. I chose one with pale roses and gold tassels, fingering the fringe while this woman stared at me, and the remembered feeling of the afternoon returned. The hairs quivered along my arms and on my neck beneath my hair.
"You're breeding." It was the kind of thing a member of royalty might say to the lightskirt parlor maid just before she was dismissed. Scornful and contemptuous. I swallowed, because I had told no one except Sonja, and Montgomery had instructed me to remain silent about the fact to his family. Obviously he had decided to tell his mother, and she wasn't happy about it.
"No. He didn't tell me," she said, correctly divining my thoughts. "My family has a bit of the mystic about it. Sometimes we know things." She smiled at last, a real smile, the one that had ruled the Carnival Balls in New Orleans for forty years, and I understood how she had won the power she now wielded in the lower part of the state. When she smiled this smile, she sparkled, like a black opal with fire at its heart. "When are you due?"
Feeling it was useless to contradict with a lie I knew somehow she would see right through, I said with all the dignity I could muster, "In seven months."
"Did my son marry you because you're carrying his brat?"
The insult was asked casually, as though it were not a foul slander; as though I should answer calmly. Instead, shaking with the temper I have fought all my life to control, I stood. Looking down on her, I said softly, "Your son and I have been engaged for two years. You were invited to the wedding. This baby was planned. I tell you this now because obviously you... he... told you nothing about me till the moment I walked in the door. I am not some floozy who trapped him into marriage."
Instead of responding to the tirade, she laughed at me, a tinkling sound. "Floozy. I like that word. Haven't heard anyone use it in years. No, you are not a guttersnipe. Lineage?"
"Dazincourt and Ferronaire." I knew she could read the anger in my eyes, but she chose to ignore it.
"Oh yes. The Ferronaire scandal. I recall when your mother ran away and married so far beneath her. But your father was a handsome man and many envied her. Myself included. You'll do. Tell my son he can relax. He's been as jumpy as a whore in a queen's bed all night."
I knew I was dismissed. Montgomery, who was standing right behind me and had heard every word, took my elbow and led me away. We went down two long hallways, one running the length of the main house, the other intersecting it near the kitchens, to our rooms. Montgomery's hand was so tight on my elbow that the feeling faded from my fingers and sharp runnels of pain traveled up my arm. I lost my way after the second turning, but Montgomery never faltered, his pace increasing as he strode, pulling me along an unlit stairway and left, down a final hallway to the lighted room at the end.
It was a sumptuous suite done in forest green and French Country antiques, which under other circumstances I would have paused to admire, but I was angry. So angry I was shaking.
Our bags had been unpacked, our nightclothes laid out in some old world kind of service, and Montgomery slammed the door behind us. Dropping my arm as though it burned him to touch my skin, he went straight to the bathroom. Seething, I followed.
"How could you? How could you not tell them? How could you not warn me?" He carefully squeezed out toothpaste, loading his brush, the water shooting so hard into the porcelain sink, it splattered onto the mirror above. "You never even invited them to the wedding, did you? Montgomery? Are you listening to me?" I jerked his wrist, knocking the brush from his hand, pulling him around to look at me.
His eyes were blazing with anger and with something else. Fear? I turned away quickly, shaking, turning off the jet of water and cleaning up the smear of toothpaste. He closed his arms around me from behind and laughed, a hysterical sound. His arms tightening cruelly around me, he pulled me back to the bedroom and onto the bed, taking me with a brutal ferocity. Frightened, I let him do as he wanted, not protesting even when he hurt me, plunging into me dry and unprepared.
In the books I read, those romance novels of undying love, sex always put a man into an expansive mood, made him smile and try to make up. But Montgomery lapsed into a depressed silence and uneasy sleep, and I feared to move, not closing my eyes till after midnight.
During the night I woke, perhaps hearing some sound, some echo, some ambient breath or rhythm alien to this place, to find two figures at the foot of the bed. I gasped, grabbing for the covers which had somehow reached my feet, pulling the sheets up over my breasts. Richard and Marcus stood there, watching me, and I flushed in the darkness, because I had fallen asleep naked, pinned under Montgomery's arm after the brutal intimacy of sex.
Marcus held out his hand to me and seemed surprised when I shrank back against the pillows. Some moments later, they turned and left, closing the door silently behind them. Beside me Montgomery's eyes glittered in the night, and I had the uncanny feeling he blamed me for the presence of his brothers in our room. Without a word, he rolled over and shut me out. I pulled on the nightgown I hadn't had time for earlier and fell back into troubled dreams.
Montgomery never answered my questions. When I brought up the subject of his family the next morning, he walked out the door, locking it behind him. I hadn't noticed the odd locking system on the door when we came up the night before, but it could be locked from the inside or from the outside, the choice of the one who held the key. Why hadn't he locked his brothers out last night?
Through the bedroom windows I watched the family gather on the back patio for breakfast, seeming like a solemn group, though I couldn't hear their voices. The Grande Dame was seated at the table nearest the French doors, which I realized were the same French doors of the dining room. Montgomery joined them, moving fluidly through the throng to the buffet and serving himself. He sat with a group of girls, and Miles Justin joined them, tossing a leg carelessly over the back of the chair as he sat, his denim-clad torso and boots standing out in the crowd of casually but elegantly dressed people.
I watched as my stomach growled and my breath fogged the window with anger. I watched as the crowd grew and as it thinned. I watched as the Grande Dame summoned Montgomery and Miles. I watched as Marcus approached and the men seemed to become angry, their body movements stiff and tight. I thought they might fight. I watched as the entire family moved away to the left and around a corner, leaving the cluttered tables for a small army of servants to clean. Then I found a chair and simmered, wondering if the entire episode had something to do with the visitation during the night.
Later that morning, Montgomery returned, carrying a tray in his right hand, and holding a bloodied piece of linen and lace against his neck with the other. He kicked the door closed, locked it with his left hand, leaving a smear of blood on the varnished wood. Grinning, he approached me with that panther's grace that all the DeLande men seemed to possess.
My eyes focused on the blood, which seeped past the frivolous piece of cloth and down his shirt. "Montgomery?" All the anger and seething of the solitary morning leached away at the sight of his blood pooling on his collar.
"Yes, my lady?" His voice sounded jaunty, full of life and eagerness, teasing me as he had when we were courting. His eyes were bright, animated. "Is my lady hungry?"
I took the tray, put it on the table by the windows, and stopped, uncertain.
"Well? Aren't you going to patch me up? Or did I wait through two years of nursing school to marry you for nothing?" His right arm clasped me around the waist and twirled me around the room as the blood flowed down into his shirt and stained my skin through our clothes. It was bright and sticky, and I couldn't take my eyes from it.
"Come on, beautiful wife. Do your duty and act as surgeon to your injured husband." He kissed me, his lips soft as they moved over my skin.
"What happened?" My voice was hoarse, and I cleared it.
"Cut myself shaving."
I almost laughed. It was the DeLande charm and I wanted to strangle him for it, fighting to keep all the anger I needed at hand. But he danced me toward the bathroom, mumbling something about Steri Strips and hydrogen peroxide against the skin of my throat.
He was almost giddy when he pressed me finally against the cool of the sink, and I steeled myself as I reached out and pulled the handkerchief away.
It was a knife wound about three inches long, and deep, stopping only because the blade had hit his collarbone. If it had gone higher an eighth of an inch, it would have slipped past the protection of bone and bitten deep into his neck, into his external jugular. The blood-smeared skin pulsed with the carotid, just beyond.
I swallowed and applied pressure with shaking fingers, searching the medicine chest for the supplies he had mentioned. They were there, along with clear, inch-wide tape like hospitals use to hold IVs and gauze in place on the human body. All the while his hands, now free from holding the cut, ran up and down my body, smearing the blood into my clothes and hair and skin, pulling at me and at my clothes, sticking as the blood became tacky. He mumbled as though drunk against my skin, making my job difficult, but I finally got the wound clean and dripped on the hydrogen peroxide. It bubbled deep and Montgomery gasped, biting into my neck and knocking loose the gauze I held.
"Stop it. I need to get this cleaned and bandaged and get the bleeding-"
"And I need you."
"Obviously." He laughed at the mockery in my voice. "When are we leaving?"
"Monday," he mumbled as he maneuvered me out of the bath toward the still unmade bed. "Take off your clothes."
"Tell me what happened." I was bargaining. Montgomery was having none of it. He pulled the damp, crimson gauze away and with bloodied hands pulled my clothes off, pushing me down on the mattress. His eyes met mine, and the light in them made me stop trying to stanch the bleeding. His breathing was harsh and he bit me again, this time on my breast, hard. I stopped struggling.
Montgomery sensed the change in me and became gentle, tender. He looked into my eyes as he made love to me, my body passive beneath his, his blood dripping onto my chest, my throat, into my hair, and puddling the sheets with his exertion.
My breath came fast and hard, not from passion, but from fear; my skin was cold and clammy, my hands and feet tingling. Hyperventilation, some remote and rational part of my mind whispered. Montgomery's eyes glittered with a strange, sparkling horror and laughter.
When he was done, Montgomery left me lying on the bed and showered. I could hear the water sluicing against the tile, thudding against Montgomery. Unmoving, I studied the molding around the ceiling, counting the swirls and rosettes as his blood dried on me and cracked. Carefully I kept my mind blank.
I had seen a rabid dog once, brought in to the clinic by a distraught boy who didn't understand what the insanity meant any more than he understood what the bites on his arms would mean later in terms of pain and shots and fear on the part of his family. The dog had writhed and fought and clawed once released, and I had ushered the boy out into the waiting room while Daddy got his gun and blew the dog's body apart. And that dog had Montgomery's eyes.
Dry and clean, his wound bandaged as well as I might have managed and a towel wrapped around his waist, he returned, bringing the tray to the bed. Plumping the pillows, he propped me against them, positioning me like a doll. And ignoring the blood and the stink of semen, he fed me.
I ate, afraid to refuse although I wanted nothing now. And then, still without explaining, Montgomery dressed and left, humming a little tune. The lock clicked.
I spent the entire weekend locked in my room. For my protection, Montgomery said later. Because I was too innocent, too lovely, and too much of a temptation for his brothers, and he would not share that which he chose as his own. Share with his own brothers? Share me?
I spent the weekend alternately furious and frightened, despondent and dejected. I was safe in the room as long as fire didn't break out or one of the brothers break in. But I was bored and lonely and God knows curious. Surely this family wasn't a danger to me. Surely I had misread both the situation and Montgomery's cryptic comments. And the rabid dog look in his eyes.... Surely. And yet....
When Monday came, we left without good-byes, driving down the curving drive in Miles Justin's antique T-bird, the top down and a hot wind tangling my hair. I was so glad to be leaving that relief was a potent pulse beneath my skin. I looked back at the old house, its windows black holes like empty sockets in an old skull, the wisteria kinked and snarled like arthritic fingers reaching for the cavities.
Where just moments before, the front porch had been empty, Miles Justin now stood, his hip casually against the banister, watching. Even through the widening distance, his eyes met mine and he smiled. With all the grace of the DeLandes he lifted his left hand and gripped the crown of his cowboy hat, one finger in the central dip. He raised the hat slightly. It was a kindness and a jest all at the same time, and I laughed as the drive turned and the wisteria hid my enigmatic brother-in-law from view, his hat still in the air.
I should have known. I should have understood.
· end of chapter one ·
---
Excerpt from the book BETRAYAL by Gwen Hunter
©1994 Gwen Hunter
To purchase BETRAYAL direct from Bella Rosa Books
using PAYPAL click the button below.
$17.00 including worldwide shipping.
---
Gwen Hunter's books have been sold in the USA, Italy, France, Germany, Holland, Australia, New Zealand, the Philippines, Finland, and the UK, where her best seller STOLEN CHILDREN (the UK title for the novel BETRAYAL) won the W.H. Smith award for best first novel. Gwen's latest book, GRAVE CONCERNS, is a lead title from MIRA BOOKS. Look for it in book stores January, 2004.
---
---