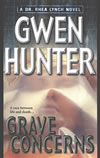 Category: Fiction/Thriller
376 pages
ISBN 0-7783-2006-5
Publisher - Mira Books
January 1, 2004
Grave Concerns
Gwen Hunter
Mira — Jan. 2004

Dorsey City, Dawkins County, South Carolina—Present Day

Dr. Rhea Lynch works saving lives in the emergency room of a small county hospital. Missing are the expensive high-tech tools that are the norm for most ERs, but the staff at Dawkins gets the job done skillfully. And though it's a small hospital, Dawkins has more than its share of shootings, murders, car
accidents and drug overdoses. Rhea likes the action and loves her job. At least she does until she finds herself deputized and appointed coroner after the chief coroner is downed in a hail of gunfire. Now, instead of sustaining life,
Rhea finds she is called to pronounce a body dead long after the time for saving is past, and in addition to twelve-hour shifts, she's suddenly thrust into the inner sanctum of the Dawkins police.

When an abused boy asks for her help to find his missing sister, Rhea learns that a hit and run kidnapper has been snagging young girls in the area. The county is thrown into a full-blown panic when a mass grave is discovered not far out of town, and Rhea is drawn into the investigation. She soon butts heads with former lover, Police Officer Mark Stafford, but her questions go unanswered. With each death scene she is called to confirm, Rhea makes an effort to find the killer. She can't ignore the presence of the F.B.I. agents who show up at every midnight call to a scene, but Mark isn't talking, and neither is the stealthy Eli Cordell, ex-Delta Force, the lean, mean and sexy man who has Rhea wondering if she should make the decision to reconcile with Mark, or pursue the unknown.

GRAVE CONCERNS is a fast paced thriller from page one to the very end. Mark and Rhea are at odds over battles fought long ago and never resolved, and Rhea is still looking for her niche in life and a place to settle. Even though she's been in her house for over two years, she has yet to unpack, and lives day to day punching the twelve-hour time clock she loves. Secondary characters abound and provide lots of backstory and comic relief, and help propel the excitement from page to page. The realistic blend of what happens behind the scenes in the ER and inside the investigations of the crime scenes are at times graphic, but the story is told so well and with such authenticity that it takes on its own life.

GRAVE CONCERNS is a top-notch suspense and the fourth in the Dr. Rhea Lynch series. Previous titles are DELAYED DIAGNOSIS, June 2001; PRESCRIBED DANGER, April 2002, and DEADLY REMINDER, February 2003. GRAVE CONCERNS stands on its own, and you do not have to read the earlier books, but I recommend you do for maximum enjoyment.... GRAVE CONCERNS is an excellent read for January, one that I could not put down.

Ms. Hunter is a master at suspense, penning a taut and exciting true-to-life story that leaves the reader only wanting more.

Diana Risso, —romreviewtoday.com
GRAVE CONCERNS
When the local coroner is wounded at a crime scene, ER doctor Rhea Lynch is called upon to act in her stead. Working closely with her former lover, cop Mark Stafford, Rhea also has to deal with the fallout from the way their affair ended. Fortunately, there's not much time for either of them to dwell on what's past. A pair of serial killers is on the loose and Rhea's directly in the line of fire—again.
GRAVE CONCERNS contains an intricate mystery and a believable, satisfying romance. Rhea is a genuinely likeable character and hopefully will have many exploits in the future.
—Romantic Times Magazine
GRAVE CONCERNS
Mystery

For the discriminating mystery fan who loves a complex plot with lots of forward motion and characters who feel like friends. Such a book is GRAVE CONCERNS by Gwen Hunter.

ER. Doctor Rhea Lynch finds herself caught in a series of convoluted situations that overlap and complicate her life no end. The man she almost loved, Officer Mark Stafford, has had a one night stand with another woman and she says she is carrying his child. His denial carries little weight. Then the brother of a patient takes a shine to Rhea and finds the attraction mutual, but something holds her back. To add to her problems, Rhea is unwillingly deputized as assistant coroner when a serial killer's victims turn up.

Trying to straighten out the confusion that has become her life, Rhea is drawn deep into the plot to catch the killer and could end up one of his victims.

The author of this book has a real feeling for personalities and backgrounds. The reader will believe these people exist and share their loves, joys, and fears.

A keeper. You will find yourself wanting to read GRAVE CONCERNS again. I highly recommend this great tale and hope to see other books by very talented author, Gwen Hunter. A book you won't want to put down.
—ReaderToReader.com
GRAVE CONCERNS

Five Stars
In Dawkins County, South Carolina, Dr. Rhea Lynch hears the volley of bullets and goes out to see if she can help. Though she almost ended up being hurt in a crossfire that is not what made her reconsider her Good Samaritan efforts. The county coroner Dr. Anita Yarborough was badly hurt in the fray and Rhea has been drafted to temporarily serve as a deputy completing the medical examination of the murder of John Pendergrass by his foster son Wayne Geter, who claims sexual abuse and that his sister was sold to someone who will abuse her.

Rhea works alongside police captain Mark Stafford, a person she is in love with, but who abruptly ended their relationship when he allegedly impregnated someone else. As Rhea learns more about the case, she finds out that other girls are missing, leading the FBI into the investigation. Soon Rhea will risk her life trying to bring down a sexual predator using, abusing, and killing young females.

In her latest appearance (see DEADLY REMEDY), Rhea remains a delightful protagonist; who is refreshed with her new, more bureaucratic role. That assignment also forces Rhea to deal with Mark. The story line is loaded with action as Rhea slowly becomes involved with stopping a sexual predator. Fans of the series will take pleasure in Rhea's latest medical romantic thriller.

—Harriet Klausner, ACTION THRILLER REVIEWS
GRAVE CONCERNS

5 STARS!
Dr. Rhea Lynch was an ER. physician in a small South Carolina town. When gun shots erupted down the street from her home, Rhea grabbed her medical bag and sprinted to help. The chief coroner was shot during the episode and Rhea found herself, unwillingly, deputized as an assistant coroner. Just another item to pay back Mark Stafford, local law enforcer, for. And pay him back she would. In spades!

It was not long before a mass grave was uncovered. All were young girls, all high school ages, some black and some white, and all posed in the grave to make a message. It seemed the area had a serial killer on the loose and he had been killing for quite awhile.

***** Hmmm, seems Dr. Rhea-Rhea and Mark are going through a severe rough patch in romance. (This was a loose end from the last book.) Enter dangerous and sexy man Eli Cordell. This ex-military commando-man will give Mark a serious run for Rhea's affection. This novel has more action, adventure, and romance than the predecessors. So hold onto your seat.

There are a couple of sub-plots around the young girls and Marisa that I do not mention for fear of spoiling something. All-in-all, this medical/police thriller is well worth the price. Readers, be sure to email or write the author's publisher telling her that you want Eli to get his own story told! *****
Reviewed by Detra Fitch — HUNTRESS REVIEWS
Grave Concerns
Gwen Hunter
Mira - Jan. 2004
Promotions can be murder; at least in some cases. When the chief coroner is gunned down, Rhea Lynch finds herself having to step in as assistant coroner on a baffling case. A mass grave opens up a huge can of worms, personally and professionally. Rhea is challenged to find the killer before more deaths are racked up, but she is being forced to work with Mark, the guy who two timed her, and with Eli, the man who wants her now. On top of that, her dear friend Risa is being courted by a smooth talking cowboy who may be Rhea's friend, but that won't keep her from murder if he hurts brain damaged Risa.
Fans will be glad to catch up with Dr. Rhea's life. The town is taking on added depth with each volume relating this gutsy lady's life. With danger and romance, you will be drawn into and thoroughly involved in the plot.
—Amanda Killgore