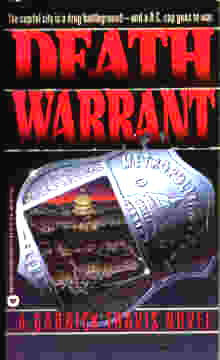 THE CAPITOL CITY IS A DRUG BATTLEGROUND--AND A D.C. COP GOES TO WAR.
---
Cover Art ©1992 WARNER BOOKS
WARNER BOOKS
A Time Warner Company
ISBN 0-446-36013-9
---
gwenhunter.com
GARRICK TRAVIS
Before he wore a badge, he stalked a heroin cartel preying on U.S. troops in Vietnam. Today he's a plainclothes cop on the deadly streets of the nation's capital. Different jungle, same war. A war where it's almost impossible to tell your friends from your enemies.
Travis learns it the hard way when a carefully planned stakeout falls apart and, in a lethal confrontation, one of his bullets kills a ruthless drug lord. Suddenly the streetwise cop finds himself waging a battle on two fronts--one against a powerful crime underworld and one against the law he has sworn to uphold.
---
Gary Hunter is a pseudonym for the writing of G. F. Hunter and G. H. Leveille. Hunter is a medical laboratory technician and Leveille is a police officer. After a chance meeting in a hospital emergency room while both were on duty, they began the collaboration that resulted in this series.
---