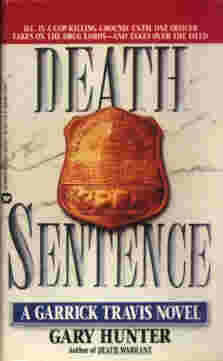 D.C. IS A COP-KILLING GROUND, UNTIL ONE OFFICER TAKES ON THE DRUG LORDS--AND TAKES OVER THE FIELD.
---
Cover Art ©1992 WARNER BOOKS
WARNER BOOKS
A Time Warner Company
ISBN 0-446-36014-7

gwenhunter.com
YOU THOUGHT IT COULDN'T GET WORSE. THINK AGAIN.
They've flooded our streets with death and destruction. They've taken our children and turned our cities into war zones. Now the drug lords want more. They want cops maimed, tortured, and dead.
Garrick Travis knows war--the kind he fought in Vietnam and the kind he's fought every day on the streets of Washington, D.C. But this is different. This time a drug cartel with a Cuban connection and an international accent is exploding on D.C., viciously taking the lives of men and women Travis has trained and worked beside.
Now Travis is putting aside his badge and teaming up with Sayaad, the green-eyed man he once swore that he would kill. Because in this league Travis needs any ally he can get--against an enemy with all too many friends of his own...
---
Gary Hunter is a pseudonym for the writing of G. F. Hunter and G. H. Leveille. Hunter is a medical laboratory technician and Leveille is a police officer. After a chance meeting in a hospital emergency room while both were on duty, they began the collaboration that resulted in this series.
---