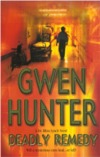 REVIEWS FOR
DEADLY REMEDY
Third book in the Rhea Lynch, MD. Series
---


Engaging Romantic Medical Thriller.
Dr. Rhea-Rhea Lynch works the emergency room of South Carolina's rural Dawkins County Hospital. Though most big city folks would expect the ER to remain quiet, Rhea knows that her hospital can get really hopping. For instance tonight, she saved the life of Venetia Gordon, a quadriplegic teen who lost the use of her limbs and her hope several months ago. Immediately after that a vehicle crashes in the parking lot with two females inside. One requires Rhea to perform a Mash-like amputation to save her life. Both act weird having suffered physical abuse, torture and even amputation. Not long afterward, healer DaraDevinna Faith arrives to help the less fortunate. Rhea's faith is in modern medicine, but though "seeing is believing", she has trouble reconciling that Venetia suddenly lifts her arms to the Lord after seeing the healer. Only her friend Miss Essie has an explanation that black magic is in the air between the healer and the two female accident victims and death will follow. DEADLY REMEDY, the third Dr. Lynch novel (see PRESCRIBED DANGER and DELAYED DIAGNOSIS) is an engaging romantic medical thriller that takes a weirder turn than the previous novels. The story line is exciting and never slows down as the plot smoothly moves forward. Rhea remains a delightful, caring, yet harried individual and the recurring support cast provides either depth to the plot or enables the audience to better understand the heroine. About the only shortcoming of this strong thriller is that the torture of the two females is based on a true incident showing that art imitates even the negativity of real life.
--Harriet Klausner
---

From Publishers Weekly
DEADLY REMEDY
Fans of Hunter's resilient E.R. doctor, Rhea Lynch, will relish this return to rural Dawkins County, S.C., but new readers may be confused by the author's heavy handed allusions to her previous books (PRESCRIBED DANGER, DELAYED DIAGNOSIS.). When Rhea sees a van slam into a pole, she springs into action and rescues two girls, both of whom show signs of having sustained serious abuse prior to the accident. The faint of heart won't make it past this dramatic opening (at one point, Rhea amputates a limb with a hacksaw), but those who do will be drawn into the mystery surrounding faith healer DaraDevinna, who recently pitched a tent in town. Thanks to Dara, a quadriplegic regains feeling in her extremities, but many other people develop seizures after their "treatments." Tension mounts when Rhea learns that, as healers, she and Dara may be in danger. The girls from the van are self-taught practitioners of black magic, and they plan to avenge their father's abuse by stirring up a spell that calls for a set of "healing hands." Hunter's descriptions of life-saving medical procedures will hold E.R. fans riveted, but Rhea's frequent philosophizing impedes the narrative. A tacked-on resolution and an unresolved romance will frustrate those unaware that this is part of a series, but readers accustomed to Hunter's open-ended tales will eagerly await the next installment.

Copyright 2003 Reed Business Information, Inc.
---
DEADLY REMEDY - Gwen Hunter
Mira Books
February, 2003., 384pp., $6.50 U.S., $7.99 Canada.,
ISBN: 1-55166-669-3

Dr. Rhea Lynch, a dedicated E.R. physician in a small hospital in the backwoods of South Carolina, doesn't believe in omens and portents, but on one strange August Wednesday, she should have listened to Miss Essie. On this particular day, Miss Essie was just full of dire predictions and said nothing good would happen on this day. When an accident happens just outside the hospital, Rhea has to amputate one of the victims legs to get her out of the vehicle. She is shocked to discover one of the hands of her patient has also been amputated in a "homemade amputation." The driver of the van is dead and there is another passenger who seems to be in shock. She is holding a doll and she keeps repeating "Hands of evil maim and kill, hands of healing do God's will." When the two surviving accident victims are examined, they both show signs of terrible abuse and torture.

When, DaraDevinna Faith, a traveling faith healer, comes to the small community, Rhea's beliefs are put to the test. She has always believed in Science; that things can always be explained in a reasonable, logical way. Then Rhea begins to see "miracles": a young quadriplegic woman can suddenly move her arms and begins to walk, a chronic pain sufferer begins to dance and move about, pain free, a blind person can suddenly see again. Rhea doesn't want to believe in these so-called "miracles." But, when her emergency room begins to fill with people suffering from respiratory failure and heart attacks, who attended the tent meeting, she knows the faith healer is to blame. But, how can she prove it and put a stop to whatever the healer is doing?

It becomes apparent that Na'Shalome, one of the accident victims, is practicing a terrifying, evil magic and that one of her targets is Rhea. What connection do the two accident victims have with DaraDevinna Faith? When evidence mounts against Na'Shalome and her co-accident victim, pieces of the puzzle begin to come together. Rhea finds her beliefs and her medical skill tested in ways she never thought possible.

Rhea reminded me a little of Eve Dallas, only, she is a heroine who wears hospital whites instead of carrying a badge and a gun. She is confident in her skills as a doctor and doesn't have any problems making life and death decisions lightening fast. She has been hurt by things that have happened in her life, an alcoholic Mother and a broken engagement, but she's managed to weather life's obstacles and is a stronger woman for it. Rhea is a character I thoroughly enjoyed. DEADLY REMEDY is full of many colorful secondary characters who are so well described you can actually see them in your mind. The indomitable Miss Essie is such a strong character who has an effect on everyone around her, including Rhea. Mark Stafford, Captain of the country Sheriff's office, and Cam Reston, a longtime friend, are the love interests in Rhea's life. Both are well-developed characters and are so enjoyable, it's hard to choose between them.

DEADLY REMEDY is a medical thriller with a touch of the supernatural running though it. The action starts on the first page and doesn't let up until it's chilling conclusion. Gwen Hunter has written a spine-chilling, suspense filled book, interspersed with humor, I found hard to put down. She uses a lot of medical terminology, but presents it in a way that is humorous and understandable. DFO's "done-fell outs" as in "Doc, she gist standing there one minute, and the next she done fell out," and the "both-ends flu" are just two of the terms, the author uses. DEADLY REMEDY is the third in a series of books with Dr. Rhea Lynch as the main character. It is a stand-alone and the reader doesn't have to read the first two books to enjoy this one. Gwen Hunter has found another fan in this reviewer and I'm going on a search to find PRESCRIBED DANGER and DELAYED DIAGNOSIS, the first two in the series. For an exciting and enthralling read, look for DEADLY REMEDY, you won't be disappointed."
--Brenda Gill
The Word on Romance e-zine online at: http://www.thewordonromance.com
---
DEADLY REMEDY - Gwen Hunter


Highly recommended!
Rhea Lynch makes her third outing as a doctor/detective in the best book of the series to date. The small town in which she lives is steeped in both true religion and superstition, which have now mixed with the arrival of a faith healer. Suddenly, Rhea is faced with miracle cures and black magic. One of her patients, a quadriplegic is suddenly able to move, while another young woman in her care determinedly performs deadly rites that wise old Miss Essie informs her are part of black magic. Faced with curses and murder, Rhea must try to unravel the puzzle before her in time to prevent more deaths. Every belief she has ever held is put to the test, and past romantic entanglements make life at once more difficult and better.
With fascinating information and a complex plot, this story weaves its own fast paced spell. Although the medical data is sometimes complex and new readers might find some references oblique, this is still a promising series that will challenge the mind and completely involve the reader. Rhea is an intriguing character that joins the ranks of classic detectives. Highly recommended!
-- Amanda Killgore, HUNTRESS REVIEWS
---
DEADLY REMEDY
Some years ago I read so many Romance novels that by the third paragraph I know how one is going to end. The poor immigrant Irish girl is going to turn out to be the grand daughter of an Earl and marry the plantation owner. Though she was dirt poor in old Ireland, she somehow knows all about race horses and how to manage a manor house. Same with most "Whodunits". By the end of the first page, I know who killed the victim and sense that he used a knife, not a gun. Not only that, the victim deserved it.

Rock Hill's own Gwen Hunter has a new book out, "Deadly Remedy", that does have both suspense and romance, but is so skillfully written that you will never know who did what until the end, and her characters are people you would care about. She does something else I like; she ties up all the loose ends. Her setting is a thinly disguised Rock Hill area. In her last book the hospital staff had to deal with emergencies caused by a storm. In this one the employees and patients must endure power outages. Sound familiar? Her main character, Dr. Rhea Lynch, is presented with some ghastly and evil situations and survives them. The inner workings of a medical center are mysterious to the average patient and his family. Gwen unravels the alphabet soup that is the language of the medical field. I don't want to give her plot away. The book is a great reading experience.

-- Chloe LeMay - The Rock Hill Herald
---
DEADLY REMEDY
GWEN HUNTER
MIRA
February 2003
Suspense—Medical

Dawkins County, South Carolina—Present Day

Trauma physician Rheane Rheaburn Lynch is a woman of science. When Miss Essie, her best friend's old nanny, starts muttering about omens and portents, Rhea dismisses the old woman's tales as hogwash. But all too soon, a number of weird—or, as Rhea's sometime boyfriend Captain Mark Stafford of the Sheriff's Department would say, hinky—things start happening, and Rhea wonders if she was too hasty in her judgment. First, there are two teenage girls, victims of a motor vehicle accident, as well as of past abuse and torture, who may be practicing black magic. Then, the elusive graffiti artist who paints strange symbols on the hospital walls and doors. And finally, the faith healer who might be performing miracle cures at a tent meeting, but whose congregation appears in Rhea's Emergency Room in droves, with very strange symptoms. Magic or miracles? Rhea doesn't believe in either, but someone is determined to change her mind. Or do they have more deadly intentions?

The third book in the Dr. Rhea Lynch series (after PRESCRIBED DANGER and DELAYED DIAGNOSIS), DEADLY REMEDY is a perfect blend of suspense and medical thriller. A dedicated, compassionate physician, Rhea has overcome repeated betrayals and rejections to become a heroine all readers will admire. Although she can be a perfectly-mannered Southern lady, Rhea is utterly oblivious of her own attractiveness. Her relationships and interactions with ongoing characters in the series are realistic, but not always predictable. If Miss Essie's predictions come true, the next few books in the series will be exciting ones, in which readers will see the resolution of past romantic entanglements and the blossoming others.

The story stands well alone, but readers who have read the first two books will better understand and appreciate the subtle changes in Rhea and in her relationships than those who have not read the previous tales.

For a well-written, fast-paced, utterly riveting medical thriller, I highly recommend DEADLY REMEDY! I eagerly await the next book in the series.

--Susan Lantz -- ReaderToReader.com
www.readertoreader.com
a division of New and Previously Owned Books www.newandusedbooks.com.
---
You can buy DEADLY REMEDY directly from the publisher.
Use this link:
www.mirabooks.com



The brightest stars in fiction
MIRA BOOKS is the Mystery Imprint of Harlequin.
Or you can order DEADLY REMEDY from any of these online Booksellers.
amazon.com amazon.co.uk amazon.de amazom.fr
barnes&noble.com books-a-million.com booksense.com
THANK YOU !
---